[The Points Guy] Divvy Business Credit Card review: Business card offering unique features we?ve not seen before: The rewards credit card market is ferocious. With jaw-dropping sign-up bonuses and ever-improving ongoing benefits, issuers rack their brains trying to differentiate themselves from the competition. Every time we think we've seen it all, another card ambushes us with a unique offer.
Here's a product you've probably never seen before: The Divvy Business Card is a business credit credit card that gamifies the way you earn points with additional points awarded on purchases if you pay your bill weekly. It can be an absolute power earner — awarding up to 7 points per dollar on select purchases. What makes this return even more impressive is that the Divvy Business Card is a no-annual-fee credit card.
However, both the lucrative bonus categories and the options for redeeming points are limited. Let's take a look at whether this card will fit into your business strategy.
New to The Points Guy? Sign up for our daily newsletter and join our community for small-business owners.

Who is this card for?
The Divvy Business Card is a small business credit card, meaning you must have a for-profit venture to qualify. You don't have to be a multi-million dollar enterprise, but it must be some manner of self-employment — whether that's freelance writing, Uber, Rover, tutoring, etc.
It's very handy no matter the size of your business, as it automates much of the clerical minutiae of owning a small business (we'll get into that later). However, if you're a sole-proprietor with no employees, some of the card's most unique features won't be of use to you.
Related: 7 credit cards every freelancer should have in their wallet
This card also may appeal to you if you've already opened most other popular small business cards and are looking for something outside the realm of Chase, Amex, Citi, etc. It shouldn't count against your Chase 5/24 status, as most small business cards don't appear on your personal credit report.
Divvy stipulates that this credit card is for those with "good to excellent" credit. But Divvy also offers a helpful (and unlisted) feature for those with poor credit, or even no credit: Prepaid accounts. If you can't get a credit line but want Divvy's benefits, you can prepay your account and use the Divvy platform to withdraw from your available funds.
Sign-up bonus
Bad news here as the Divvy Business Card currently offers no sign-up bonus.
Main benefits
While you examine these card benefits, keep in mind two things:

You're potentially saving money by accounting for every dollar
You're running (nearly) every penny of business expenses through Divvy to earn maximum rewards

These are the things Divvy wants to achieve for your small business that other cards may fail to do. I attended a demo of the credit card, and the card does offer an edge over all other small business cards in the above capacities.
No annual fee
The Divvy Business Card is easy on the bottom line with no annual fee. Not only is there no annual fee for the main account holder, but there's also no extra fees for requesting employee cards with no maximum limit on employee cards.
Create budgets
Herein lies the Divvy Business Card's namesake. The main feature of the card is the way you can divvy up your corporate card's line of credit.
One of the most worrisome aspects of adding an authorized user or employee to your primary credit card is the fact that they have carte blanche access to your credit line. The budget feature solves that problem as you can dole out a unique amount of credit for specific situations, only as much as you're willing to spend.
As the budget owner, you can view an extremely digestible dashboard of all the budgets you have assigned. It contains graphics reflecting the size of each budget, how much is spent and how much is remaining. You can create unlimited budgets.
For example, you can create budgets for each employee to ensure they don't blow out your credit limit or rack up too many unexpected expenses. If you've got an employee traveling to a conference, you can assign a dollar amount to their card. Once they hit the card's limit, the card will decline.
On the same note, each employee can request a bump in credit from the budget owner. If there are unforeseen expenses, the budget owner can release more credit in real time. You can also establish a "grace period" of sorts, where the card won't decline if the cardholder nominally breaches their credit line.
The idea here is to eliminate overspending, and therefore save the company money.
It's also worth noting that when you pay a bill, you will immediately unlock that amount of credit once again (similar to with American Express).
Easy expensing
Processing and completing expense reports is always an unpleasant endeavor for business owners and employees.
Divvy employee cards puts the onus of expense tracking on the employee doing the spending — but it's easy for them, too. As soon as they spend, they can submit a receipt and spend a couple of seconds entering the purchase details, and it's all done and over right then and there.
Varying levels of permissions
Most credit cards, personal or small business, give the authorized users little to no power over the account. They can't log into your account, they can't see how much credit remains and can't do anything but spend.
With Divvy, you can give different permissions to different cardholders. If for some reason you want to give another cardholder access to account info, you can do this without handing over your personal login credentials.
Reimbursement
Even if you can't use your Divvy Business Card for all purchases, you can still input any expense into Divvy. For $5 per month, you can reimburse yourself for any purchases you make without the Divvy credit card through ACH deposits.
There are plenty of reasons you might prefer to use cash or a personal credit card and be reimbursed from Divvy later. For example:

If you're at a food truck that only takes cash, you can take a picture of the receipt and enter the amount and nature of the purchase into Divvy. It'll record the purchase and subtract from your budget
The Divvy Business Card is a Visa. Some stores don't accept Visa (for example, a few Kroger subsidiaries). You may need to use your personal Amex or Mastercard to get what you need.

Virtual credit cards
You can create an unlimited number of virtual cards for online recurring bills.
Instead of placing all expenses on your primary credit card, you can make a card for every expense and attach a budget to each. For example, you can create a card for paid Facebook ads and a different one for the company's FedEx account. Then, if you happen to misplace your card or fraud happens, you don't have to go through the hassle of modifying the payment information for all your subscriptions.
You can even create "burner" cards that are deleted in six days.
Better-than-average customer support
I hesitate a bit to list this as a benefit since I don't currently have the card to try it out, but the Divvy team swears they've got next-level service. No automated phone menu labyrinths, and hardly any wait times. You can call or online chat, and "within seconds" you'll be talking to a representative. You can also email.
Earning points
The section you've been waiting for. The Divvy Business Card earns rewards on all spending (quite generously, in some categories).
Divvy readily admits that they don't have the most valuable points program in the game but it does have some interesting categories. One (unfortunate) catch is that you won't earn points for reimbursements. That would have been a gold mine for miles and points enthusiasts.
In short, Divvy's rewards strategy is to make vastly more expenses rewardable than other small business credit cards.
Divvy has gamified the rewards-earning process. What you earn depends on two things:

Which bonus categories you spend in
How often you pay your bill

Here's what you'll earn.

Earn up to 7 points per dollar at restaurants! on a no-annual fee card? That certainly sounds above average. But let's look at how to use those points and how much they are worth.
Redeeming points
You must redeem your points through the Divvy online platform.
Specify how many points you want to redeem and choose a redemption method:

Travel
Gift cards
Cash back
Statement credit

Divvy rewards are worth, at most, 1 cent each. Here are the various ways to spend your points along with the value you'll receive for each option.

As you can see, points are worth about half of a cent for most redemption. If you're using this card to earn cash back, and pay your bill weekly that's like earning:

3.6% back at restaurants (7 points per dollar)
2.6% back at hotels (5 points per dollar)

For a no-annual-fee card, that's pretty good. However, all other earning scenarios with this card aren't as great.
If you prefer to use your rewards for travel, your return will be much greater — but you're now competing with an elite catalog of travel credit cards that can sometimes net you far more value for your spending if you know the best ways to maximize those rewards.
But, here's the process for using your Divvy points for travel:

Pay for travel with the Divvy Business Card
Click "Redeem Rewards" on your Divvy dashboard
Fill out the rewards form with the number of points you want to redeem
Submit the form

Divvy reports that your redemption will be processed within 10 business days.
The process is a two-edged sword. You can book directly with the travel provider instead of going through a third-party portal, which is great news for those wanting to use points for hotels, as you typically only earn elite night credits, elite benefits and hotel points if you book direct.
However, you must use the Divvy Business Card to reserve your travel, meaning those with airline or hotel credit cards won't be able to earn extra rewards or kick in built-in travel protections on these purchases.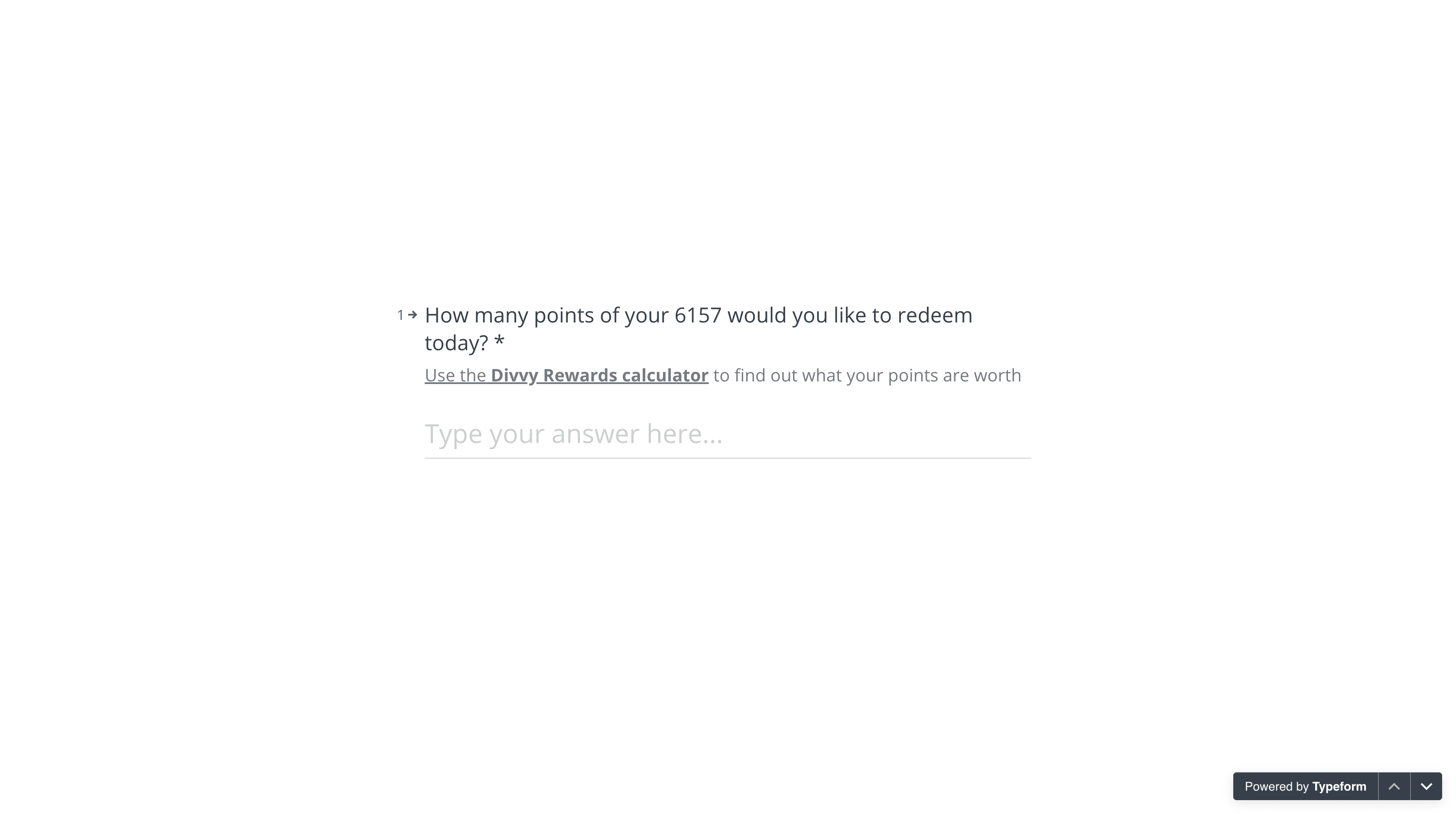 How Divvy stacks up agains the competition
So how does Divvy compare to other no-annual-fee business cards?
Remove the budgeting features, and you may be able to beat some of the other earning rates of the Divvy Business Card elsewhere. The card doesn't extend a welcome bonus, has no travel-specific benefits or protections and its rewards are limited.
Take the no-annual-fee Ink Business Cash® Credit Card as a comparison example. It offers $750 (75,000 Chase Ultimate Rewards) after spending $7,500 within the first three months of account opening as a welcome bonus. TPG valuations peg Chase points value at 2 cents each toward travel, on average, meaning you should easily get $750 – $1,500 in value from the welcome bonus alone.
The card's return rate is also competitive, offering up to 5% cash back (5 Chase Ultimate Rewards per dollar) in select bonus categories on up to $25,000 in spending each account anniversary year.
Note: You'll need to hold an Ultimate Rewards-earning card, such as the Chase Sapphire Preferred® Card, to be able to get the full value out of the points earned by the Ink Business Cash.
The Ink Business Cash even offers primary rental car insurance when you decline the rental agency's collision insurance and charge the entire rental to your card. That could easily save you $10+ per day on your car rentals.
Another great competitor with no annual fee is The Blue Business® Plus Credit Card from American Express.
With this card, you'll receive 2 Amex points per dollar on all purchases for the first $50,000 spent each calendar year (then you'll earn 1 point per dollar). TPG valuations estimate Amex points to be worth 2 cents each with maximized with Amex travel transfer partners. That's a flat 4% back toward travel for all purchases — wildly more useful for most of us than the Divvy Business Card's bonus categories.
These are the sorts of card earnings and benefits you won't get with the Divvy Business Card. You can read our reviews of the Ink Business Cash and the Blue Business Plus for more details.
However, there's no one-size-fits-all answer when it comes to rewards credit cards. Divvy does have some potentially high category payouts and does offer unique budget features that may be exactly what your small business needs.
Bottom line
The Divvy Business Card introduces some very unique perks to the small business credit card world.
You can give employees varying degrees of account access, set strict budgets for each employee card and reimburse yourself for expenses from your personal payment method to keep within budget. And interestingly, you're rewarded based on the frequency in which you pay off your balance. You can earn potentially 3.5 times more points by paying your bill weekly instead of monthly.
With no annual fee, the card is good for sole-proprietors but also potentially fantastic for larger businesses. The unprecedented control you've got over how your company money is spent prevents impulse extravagance, which can yield untold savings. Even if the rewards system isn't the best, that may be enough to spur many business owners to give it a try.
Featured photo by John Gribben/The Points Guy